Do you want your digital marketing to generate bigger results?

Discover AmpiFire and get your content published on more sites, in more ways, than old-fashioned Press Releases. Get seen on Google News, YouTube, SlideShare, Apple Podcasts and many more…

Click Here To Learn More
Industry data shows that 86% of all businesses use video as a marketing tool. This isn't surprising, though, as this announcement format makes it easier and faster for people to understand what a product or service is all about.
If you provide video production services, you hold a distinct advantage as you possess very specialized skills that span cinematography, sound engineering, set design, and everything in between. But like any business, you have to promote your production studio to get clients — something that press releases (press releases) are surprisingly well suited for.
Why Press releases? For a seemingly old-school piece of marketing communication, it can give a huge boost to your online presence. Since press releases are featured on reputable websites and publications, they drive traffic to your website and improve your search ranking on Google. 
They can help improve your social media presence, too. If your production company was featured on respected industry websites, share them on your Facebook or Twitter account to rack up likes and comments. You can even include your social handles in the press release itself to get more people to follow your account and discover the work you do.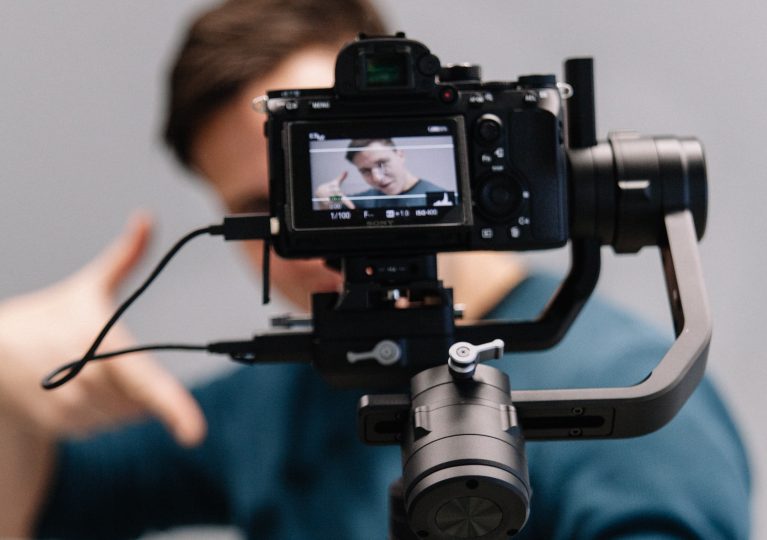 Most importantly, having your press release featured on news outlets lends your production house an air of credibility and prestige that self-promotion via Facebook or pay-per-click ads cannot provide.
The big question, however, is how to write an effective press release. Not to fear, though, as we have a simple template and sample for you to follow.
Your Press Release should include the following information:
Catchy headline
Details about your video production company
Name
Location
What are you announcing/launching?
Relevant information that underscores the importance of your announcement
Further details (e.g.. What videos are you able to produce? What video formats do you specialize in? Which industries do you serve? )
Prominent clients you have worked with
Quote from you or a satisfied client
Relevant image: company logo, your portrait, photo of your team/studio, etc.
Business website URL
Release date
Dateline
Boilerplate (about your company/achievements)
Contact information (contact person, address, phone)
– SAMPLE PRESS RELEASE –
Of course, the goal of the template is to help you write your own effective press releases. But to make the process even easier for you, we've also included an example of how a video production company could write their announcement.
In the sample release below, a studio is announcing its corporate video service for small businesses.
Glendale AZ Production Studio Launches Video Shoots For Small Businesses

Glendale, AZ, Release: December 28, 2022. For Immediate Release

Orion Video Production, a video production company based in Glendale, Arizona, announced the launch of an updated range of services for businesses in the Maricopa County area. The company provides quality productions at competitive pricing for businesses looking to better connect with their customers.

More information can be found at https://orionvideoproduction.net

Video is quickly becoming one of the most powerful tools to incorporate into one's marketing strategy. The newly launched video production solutions at Orion Video Production help businesses advertise their products and services.

As high-quality video productions can convey an organization's products, services, or message and can effectively explain a company's goals to enhance the advertising process, they should be a part of any marketing strategy to reach new potential customers.

Orion Video Production has the knowledge and expertise to help clients create a video marketing strategy that will build their brand presence, improve search results and drive revenue. They are committed to working with clients every step of the way, from the initial meeting to delivery of the first concept and to project completion.

Whether clients are focusing on YouTube marketing, emails, blogs, or social media, the team at Orion Video Production can also help with a video production that completely integrates into their current marketing plan.

Since 2013, the team at Orion Video Production has been helping Glendale-based businesses with a vast array of video production services. Some of their projects include corporate messaging, commercials, event coverage, live streaming, virtual reality, aerial drone coverage, music videos, crowdfunding, campaign videos, and many more.

With the recent announcement, Orion Video Production strives to help local clients use the power of video to transform their businesses.

A satisfied client said: "After years of working with camera crews from LA to New York and many in between, Orion Video Production was one of, if not, the best production company we've worked with. Collin and his team provided professional, quality work for us in filming a marathon 8-hour live stream shoot that involved video, photography, and some graphics work."

Interested parties can find out more by visiting the above-mentioned website.
– PRESS RELEASE TEMPLATE –
While press releases may seem intimidating to create at first, they have a very simple structure that you can use for any announcement. Even better, the prominence and exposure they yield are far greater than what other marketing channels — even digital marketing — can provide.
[Headline Of The Press Release]

[City] [State] Release Date: ["For Immediate Release" or a concrete date]

[Summary Section: Briefly describe your announcement]

[Insert a quote from a company representative related to the news]

[Write an additional paragraph to provide more details about the announcement: try to respond to all relevant W-questions (where, what, why, when, who)]

[Insert another quote or another section with details about the news]

[Include a call to action and an URL address where the reader can find more information about the news]

[Boilerplate message about the company: insert the following information
Contact info:
Name:
Company:
Address:
URL:
Phone:]
Because in an era where information is freely available, press releases provide curated and trusted announcements hand-picked by editors. Give it a try today to see how they can grow your business.
We hope that our template will help you write an effective press release for your brand. Using press releases, you can increase your company's credibility and prestige online.
Do you want your digital marketing to generate bigger results?

Discover AmpiFire and get your content published on more sites, in more ways, than old-fashioned Press Releases. Get seen on Google News, YouTube, SlideShare, Apple Podcasts and many more…

Click Here To Learn More
Was this information useful? Let us know in the comments below.