In This Guide:
12 critical elements that a business relocation press release must have like reasons for moving, new business location, company information, and others.
1 business relocation press release example for effective writing.
1 customizable template to use for your own business relocation press release.
Writing tips for a successful business relocation press release.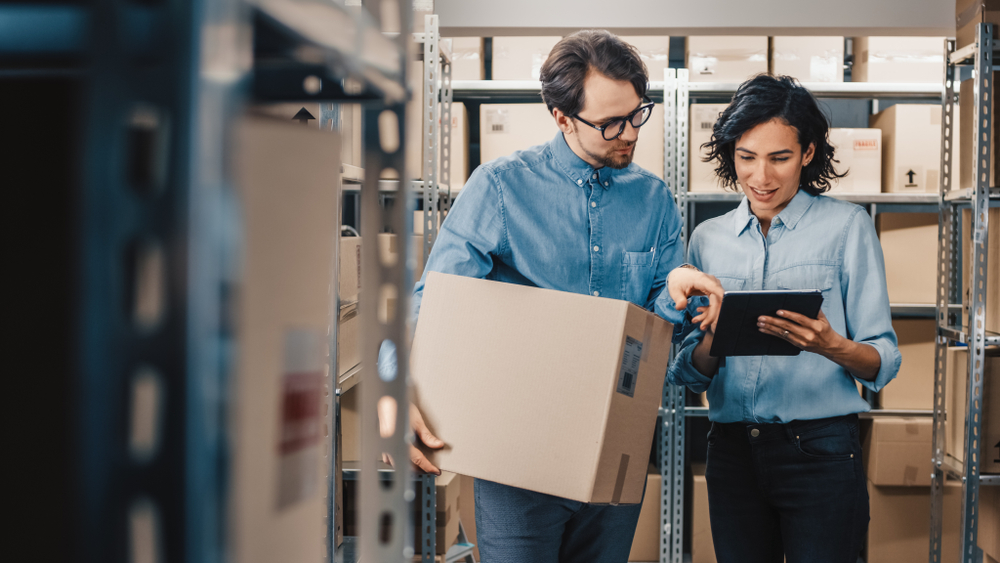 Your Business Moving or Relocation Press Release Should Include the Following Information
Moving your business to a new location can be an exciting but stressful time. You want to ensure that your customers are aware of your new address and that your business is up and running as soon as possible.
One of the most effective ways to do this is by writing a business moving press release.
An effective press release can inform your target audience of your move, generate buzz around your brand, and ultimately drive traffic to your new location.
Here's 12 critical elements your business moving press release must have:
Catchy headline that captures the essence of your announcement and makes it stand out.
Details about your business, such as its name, industry, location, and key stakeholders like CEO to establish credibility and trust with your audience.
The reason for your move and what you hope to achieve, whether it's to expand your operations, improve your facilities, or better serve your customers.
Relevant information that underscores the importance of your announcement, such as the impact it will have on your customers, employees, or the community.
Further details about your business, such as the products or services you offer, your target audience, or your vision for the future.
Testimonials from satisfied customers, partners, or employees to build credibility and social proof.
A relevant image that reflects your announcement, such as a photo of your new facilities, your team, or your products.
Your business's website URL to direct interested parties to learn more about your services.
Release date to inform the audience of the time-sensitive nature of your announcement.
Dateline, including your location and the date of your press release to give your press release a sense of immediacy and urgency.
Boilerplate information about your business, such as your history, your achievements, and your unique selling proposition, to provide context to your announcement.
Contact information, including a contact person, an address, and a phone number, so interested parties can reach out for more information.
– SAMPLE BUSINESS MOVING PRESS RELEASE –
To give you an idea of how to structure your business relocation announcement, we've put together a sample press release. The press release example demonstrates how to highlight the benefits of your new location, how to convey important logistical information, and how to maintain a positive image for your brand.
ABC Moving Company Announces Its Relocation to a New Facility in Los Angeles

Los Angeles, California Release: April 1, 2023. For Immediate Release

ABC Moving Company, a leader in the moving and storage industry, announced today that it is relocating to a new state-of-the-art facility in Los Angeles. The move will enable the company to expand its operations and provide even better service to its customers.

The new facility, located at 123 Main Street, features 50,000 square feet of warehouse space, a modern office complex, and advanced technology that will allow ABC Moving Company to streamline its operations and enhance its customer service capabilities.

"We are thrilled to announce our move to this new facility," said John Smith, CEO of ABC Moving Company. "This move represents a significant investment in our business and demonstrates our commitment to providing our customers with the best possible moving and storage solutions."

In addition to its state-of-the-art facilities, ABC Moving Company is also introducing several new services, including climate-controlled storage, white-glove moving, and packing and unpacking services. These services are designed to meet the needs of customers who demand the highest level of service and convenience.

More information about ABC Moving Company's relocation and new services can be found at www.abcmovingcompany.com. Interested parties can find out more by visiting the above-mentioned website.

About ABC Moving Company: ABC Moving Company is a leading provider of moving and storage solutions in the Los Angeles area. With over 20 years of experience, the company has established a reputation for excellence in the industry. Its team of experienced movers and packers is committed to providing customers with the highest level of service and support.
– BUSINESS MOVING PRESS RELEASE TEMPLATE –
In this section of the article, we will provide you a template to help you write a professional and impactful business moving press release. Whether you're expanding your business, moving to a better location, or simply looking to celebrate your company milestones, the tools provided in this section will help you communicate your message effectively and reach your desired audience.
[Headline Of The Press Release]

[City] [State] Release Date: ["For Immediate Release" or a concrete date]

[Summary Section: Briefly describe your business move, including the reason for the move, new location, and opening date]

"We are excited to announce the move of our [company name] headquarters to [new location]. This move is a strategic decision that will allow us to better serve our customers in the [geographical area or industry] and expand our reach in the market," said [name and title of company representative].

[Insert an additional paragraph to provide more details about the business move: include information on how the move will benefit the company, any new services or products offered, and any partnerships formed with other businesses or organizations]

"Our new location will allow us to provide more convenient access for our clients and enhance our operational efficiency. We will be offering [new services or products offered], and have formed a partnership with [name of business or organization]. This move represents our commitment to growth and providing the highest level of service to our customers," added [name and title of company representative].

[Include another quote from a company representative, a satisfied customer, or industry expert to reinforce the importance of the business move and the company's commitment to excellence]

"Moving our headquarters to [new location] is a testament to our dedication to providing top-notch services to our clients. This new location provides us with greater visibility and a larger space to better serve our customers," said [name and title of company representative or satisfied customer].

[Include a call to action and an URL address where the reader can find more information about the business move, such as the company's website or social media accounts]

"We look forward to welcoming our clients to our new location and invite everyone to learn more about our company and services at [company website URL or social media accounts]."

[Boilerplate message about the business: insert the following information Contact info: Name: Company: Address: URL: Phone:]
Writing Tips for Successful Business Relocation Press Release
Here are some key tips for writing a successful business relocation press release:
Start with a strong headline that includes your company name, location, and the keyword "relocation." This will immediately catch the attention of your target audience and let them know what your announcement is about.
Keep your press release short and to the point. Avoid using technical jargon or long paragraphs that could overwhelm your readers. Instead, focus on the key benefits of your move, such as improved facilities, new opportunities, or increased accessibility.
Use relevant keywords throughout your press release to help it rank higher in search engine results pages (SERPs). This will help your target audience find your announcement more easily when searching for information related to your industry.
Emphasize the benefits of your move and how it will positively impact your customers, partners, and employees. This will not only make your press release more engaging but also help build brand awareness and loyalty.
Include quotes from key executives or stakeholders in your company to add credibility and a personal touch to your press release. This can help establish your company as a thought leader in your industry and build trust with your target audience.
Finally, don't forget the importance of content marketing in promoting your Business Relocation Press Release. By sharing your announcement on social media, through email marketing campaigns, and on your website, you can increase your reach and generate more buzz around your move.
Moving your business to a new location can be a challenging and stressful process, but it can also present exciting opportunities for growth and expansion.
By crafting a well-written and targeted press release that emphasizes the benefits of your new location and highlights your company's achievements and future plans, you can generate positive buzz, attract new customers, and establish your presence in your new community.
Do you want your digital marketing to generate bigger results?

Discover AmpiFire and get your content published on more sites, in more ways, than old-fashioned Press Releases. Get seen on Google News, YouTube, SlideShare, Apple Podcasts and many more…

Click Here To Learn More
Frequently Asked Questions
What should the business relocation press release dateline include?
The dateline should include the date of the press release and the city where the business is relocating. It's like setting the stage for your news.
What should the business relocation press release release date be?
The release date should be as soon as possible to give people ample time to adjust their interactions with your business.
What should I include in the business details?
Include the name, industry, location, and key stakeholders like the CEO. These are the nuts and bolts people need to know.
How important is the reason for the business relocation?
The reason for the move is pivotal. It sets the tone and helps people understand why you're making this change.
How can AmpiFire help my business relocation press release?
AmpiFire can distribute your press release to a broader audience. It's not the holy grail, but it's a tool that can help you get more traction.