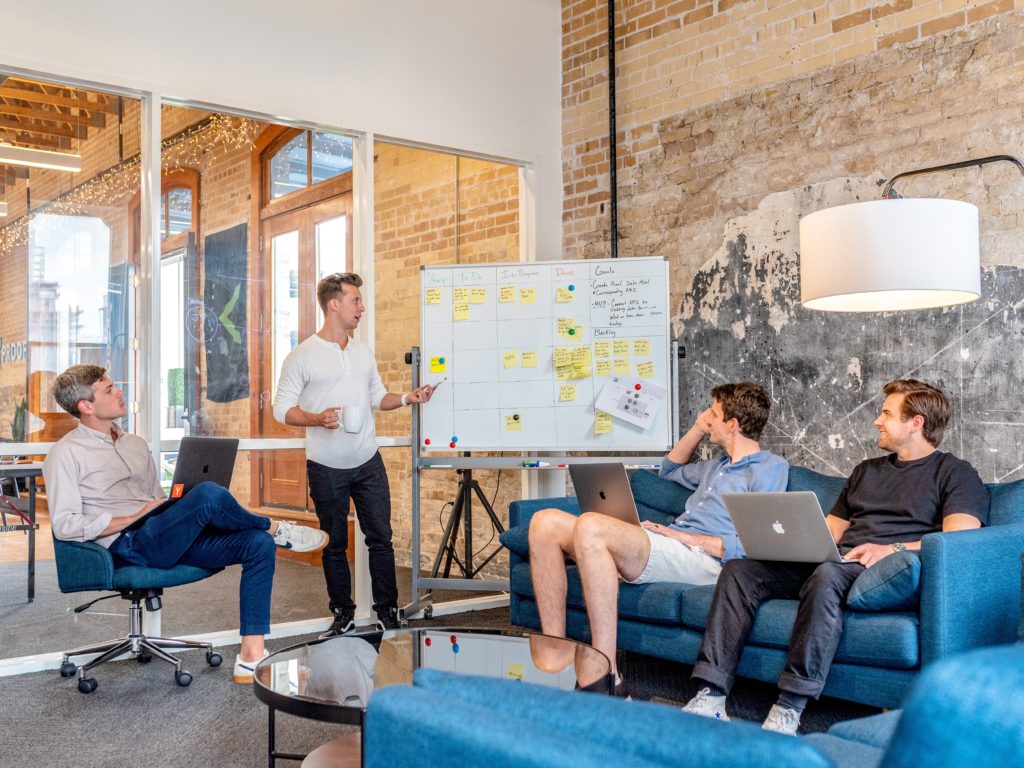 New York Daily News Press Release vs. Submitting a News Story Tip
New York Daily News, colloquially known as NYDN, stands tall as one of America's renowned daily newspapers. Located in New York City, this prominent newspaper boasts a massive online following, attracting millions of distinct monthly users. Crucially, the NYDN's readership showcases a variety of age brackets, with a significant portion predominantly aged between 25-44, indicative of a young, well-informed, and active audience.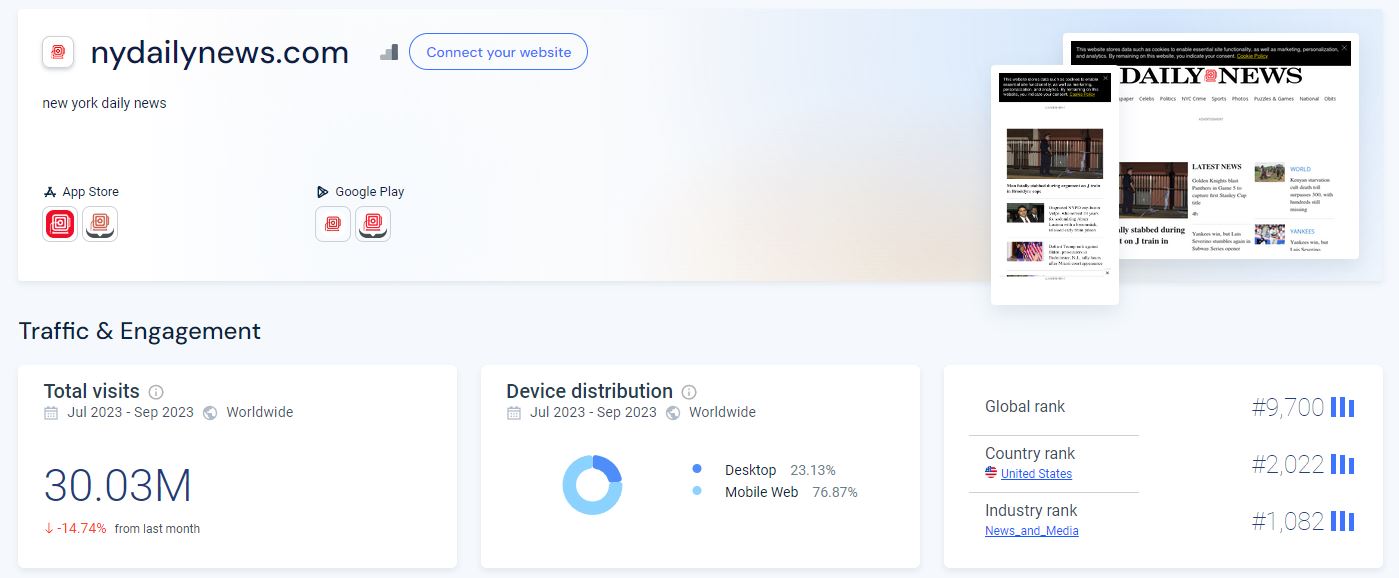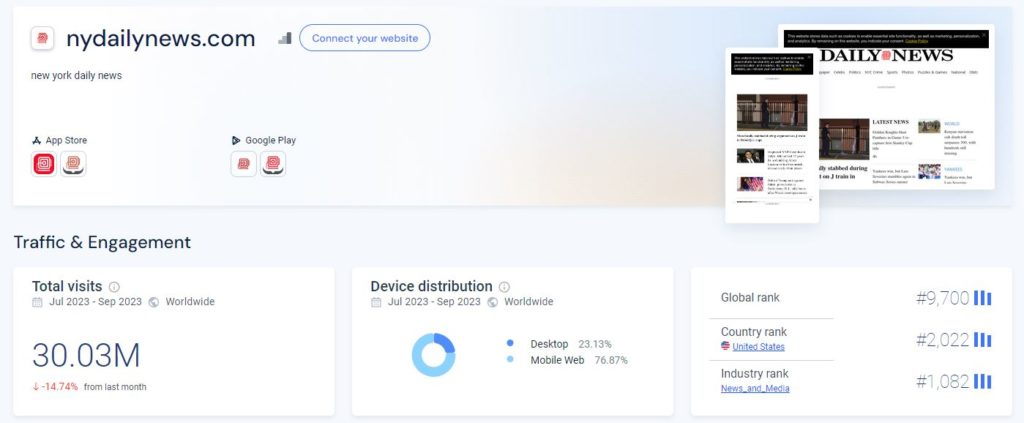 Press Release vs. News Tip: Which is Right?
Press Releases: Submitting a press release to the New York Daily News is a streamlined process tailored for businesses, organizations, or individuals looking to announce noteworthy events or developments. This form of content is typically polished, professional, and crafted to grab attention. Therefore, a press release, once accepted and published, finds its place in specific sections of NYDN, ensuring visibility among its vast readership.
News Story Tip: On the other hand, news story tips are different from press releases. These are more organic, grassroots-level inputs usually provided by the general public or insiders about happenings around the city or larger issues. They serve as leads for journalists who then research, verify, and potentially develop them into full-fledged news stories. Because these news tips need thorough vetting, they go through a more rigorous editorial process. However, if your story tip gets picked up, it has the potential to headline the front page or become a major feature.
For those looking for controlled messaging and guaranteed placement (subject to approval), submitting a press release directly might be the way to go. On the flip side, if you possess an exciting piece of information and believe it can make headlines, pitching a news story tip is the route to take. Whatever the choice, one thing is clear: New York Daily News offers unparalleled reach and influence in the realm of news media.
How to Contact New York Daily News to Feature Your Story
Introducing yourself professionally to New York Daily News can make all the difference between your story getting picked up or lost in the shuffle. Most importantly, before even crafting your press release, you need to determine the best point of contact for your content.
Contact Information for New York Daily News
Below is a partial list of journalists and other contact information for New York Daily News.
Additionally, you can submit your press release directly to New York Daily News by sending it to [email protected].

If you're interested in submitting an op-ed piece to New York Daily News, use their handy guide!
You can also find further contact information for New York Daily News on their Contact Page.
The Do's and Don'ts of Contacting New York Daily News
Before shooting off that email or making that call, it's essential to understand the unwritten etiquettes when approaching renowned platforms like New York Daily News.
Do's:
Be Precise: Stick to the point, clearly outlining the core of your story.
Research First: Familiarize yourself with the type of content NYDN usually features. Therefore, tailoring your pitch to align with their style can increase your chances.
Follow Up, but Don't Spam: If you haven't heard back after a week, consider sending a polite follow-up. Persistence can sometimes pay off.
Don'ts:
Avoid Generic Pitches: "This will interest your readers" without specifying why is a no-go. Be specific about your story's significance.
Don't Oversell: While it's good to be confident, avoid making exaggerated claims.
Avoid Multiple Submissions: Resist the urge to send your story to every department. Find the most relevant section and stick to it.
By understanding the distinction between crafting a memorable pitch and a forgettable one, you are one step closer to getting your story featured. Always remember, your approach is just as important as the content you're sharing.
How to Submit a Press Release & Publish Directly on New York Daily News
Submitting your press release to a reputable site like New York Daily News, The New York Times, or Associated Press can seem impossible. Here is a handy step-by-step guide for the process.
Submitting Your Press Release: Step by Step
Research and Planning: Before drafting your press release, familiarize yourself with New York Daily News' content style and editorial guidelines. Understanding the pulse of their readership can give your release an edge.
Craft a Compelling Headline: Remember, your headline is your first impression. Make it count. It should clearly convey the news value and intrigue the editor enough to read further.
Follow Press Release Standards: Begin with the city and date, followed by a succinct lead paragraph, detailing the who, what, where, and why. Ensure your content is factual, free of fluff, and grammatically impeccable.
Include Media: High-quality images or videos can boost the appeal of your press release. Make sure they're relevant and you have the rights to distribute them.
End with Contact Details: Always conclude with a "For More Information" section, providing your name, email, and phone number.
Submit: Head over to New York Daily News' dedicated submission page or email your release to the designated editor or department.
Give Your Press Release an Extra Push with AmpiFire
Besides that, if you're looking for an added advantage in distributing your press release, AmpiFire can be a worthy ally. It not only helps in distributing your content but also amplifies its reach, ensuring it gets the attention it deserves. Opting for platforms like AmpiFire can streamline the distribution process, ensuring your news reaches its intended audience without any hiccups. To learn more about AmpiFire, check out their website!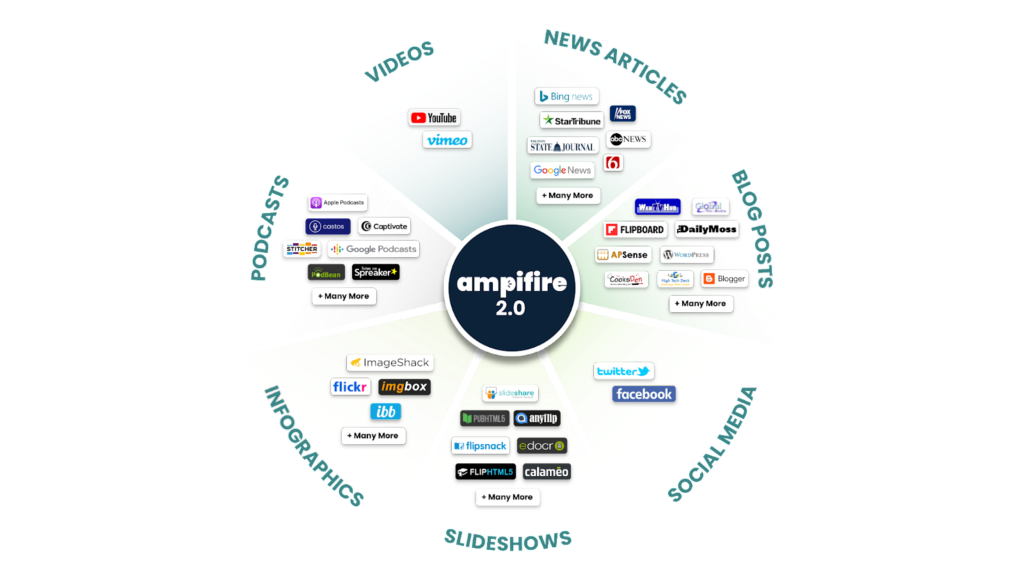 How to Get a Backlink from New York Daily News
First off, what exactly is a backlink? A backlink, in simple terms, is a link from one website to another. It's like a vote of confidence from one site to another, indicating that the content is credible, valuable, or useful. In the world of digital marketing, securing quality backlinks is gold; they can boost your website's domain authority, improve SEO rankings, and drive organic traffic.
Securing a Coveted Backlink from New York Daily News
Quality Content is Key:

New York Daily News, being a reputed platform, values quality. Therefore, ensure that your content is informative, well-researched, and unique. When your content stands out, it has a better chance of getting linked.

Engage and Collaborate:

Regularly engage with New York Daily News articles. Comment thoughtfully, share their stories, and establish yourself as a keen reader or expert in your domain. Over time, this can lead to potential collaboration opportunities or guest posts, which can secure that desired backlink.

Guest Blogging:

Most importantly, consider offering to write a guest article for New York Daily News. This not only positions you as an authority but also provides an organic opportunity for a backlink.

Local News or Events:

If your business has done something newsworthy, such as community service or hosting a significant event, pitch the story. If New York Daily News covers it, there's a good chance they'll link back to your site for readers wanting more information.

Reach Out Directly:

While it might seem forward, sometimes the direct approach works best. Find the right contact at New York Daily News, introduce yourself professionally, and make a case for why your content might be of value to their readers.
Remember, while securing a backlink from New York Daily News is a significant achievement, it's essential to be patient and persistent. The focus should always be on building genuine relationships and offering real value, rather than just chasing a link.
Use AmpiFire to Publish to New York Daily News
For businesses, brands, or individuals looking to gain traction in the digital sphere, being featured on prominent platforms like New York Daily News is paramount. But how do you ensure your content gets the spotlight it deserves? That's where AmpiFire comes into play. Currently, AmpiFire does not submit directly to New York Daily News, but it's still a phenomenal tool.
AmpiFire is a groundbreaking content amplification platform. Its main objective is to assist users in blasting their content across multiple high-authority platforms, including news sites, blogs, slideshare platforms, and more. By leveraging AmpiFire, you are not just spreading your message but establishing a dominant online presence.
AmpiFire: The Premium Edge
One of the standout features of AmpiFire is its premium service, which facilitates direct publishing to platforms with significant reach. Here's a brief look at how it aids in this process:
Streamlined Publishing:

With AmpiFire's easy-to-use interface, you can draft, optimize, and queue content for distribution. Most importantly, it ensures your content is prioritized.

Enhanced Visibility:

As your content gets featured on various platoforms via AmpiFire, it is exposed to a vast and diversified audience, boosting its potential for virality.

Optimal Formatting and Compliance:

AmpiFire's platform understands the unique formatting and submission guidelines of each of the sites it distributes to. Therefore, it prepares your content to meet these specifics, reducing the risk of rejection.

Data-Driven Insights:

Post-publishing, AmpiFire provides insightful analytics. This helps in understanding the performance of your content, making future campaigns even more effective.
Diving deeper into AmpiFire's premium offerings, users benefit from a dedicated team that manages campaigns end-to-end. Besides direct publishing, the premium service encompasses keyword optimization, graphics design, and content strategies tailored for high-impact platforms.
Experience organic results and distribution done-for-you.

Discover AmpiFire and get your press releases be seen on Google News, YouTube, SlideShare, Apple Podcasts and many more…

Click Here To Learn More
In conclusion, if the goal is to maximize visibility, engagement, and influence, integrating AmpiFire into your digital strategy, especially for publishing on platforms like New York Daily News, is a step in the right direction.
Take Action Now! Dive deeper into the world of press releases and maximize your brand's online presence. After all, in this digital age, isn't visibility the game-changer? Are you still relying on traditional methods, or are you ready to leverage platforms like AmpiFire to elevate your brand?
Frequently Asked Questions
How Effective Is New York Daily News for Press Releases Compared to Other Outlets?
The effectiveness of New York Daily News for press releases is notable, boasting over 15 million unique visitors monthly. Compared to other platforms, its expansive audience ensures maximum exposure for businesses, brands, and individuals. However, some niche platforms might offer more targeted reach for specific industries.
What's the Advantage of Submitting a Press Release Directly on New York Daily News vs. Traditional News Submission?
Submitting a press release directly on New York Daily News ensures faster approval and publication, especially for time-sensitive information. On the other hand, traditional news submission might get more editorial scrutiny, potentially enhancing content quality.
How Can One Professionally Introduce Themselves to New York Daily News?
Professionally introducing oneself to New York Daily News involves a concise introduction, stating the purpose, and showcasing credentials or past achievements. This method increases the chances of being noticed and considered.
Are There Specific Dos and Don'ts When Trying to Feature My Story on New York Daily News?
Yes, it's crucial to maintain a professional tone, provide accurate information, and avoid excessive promotional language. It's also advisable not to pester the editorial team with frequent follow-ups.
How Does AmpiFire's Press Release Distribution Compare to Traditional Methods?
AmpiFire's platform is more streamlined and efficient than traditional methods. It offers direct publishing to high-authority platforms, ensuring content reaches a broader audience. Traditional methods might offer a more hands-on approach but might not guarantee the same reach or speed.
What Exactly Is a Backlink, and Why Is It Important?
A backlink is an incoming hyperlink from one web page to another. Securing a backlink from New York Daily News enhances a website's authority and SEO ranking, driving more organic traffic.
Why Should I Prioritize Getting a Backlink from New York Daily News Over Other Sites?
Securing a backlink from New York Daily News, a high-authority platform, is beneficial for SEO. Compared to lesser-known sites, a backlink from such a reputable source offers more significant SEO advantages and brand credibility.
How Does AmpiFire Ensure Content Is Ready for New York Daily News Submission?
AmpiFire prepares content to meet the specific formatting and submission guidelines of each platform. It ensures content is compliant, reducing rejection risks.
What Are the Unique Benefits of AmpiFire's Premium Service?
AmpiFire's premium service provides an end-to-end campaign management, from keyword optimization and graphic design to tailored content strategies. It stands out from basic services by offering a comprehensive approach to content distribution.
Is It Worth Investing in AmpiFire for New York Daily News Publishing Over Doing It Myself?
While submitting content personally provides control, AmpiFire offers efficiency, expertise, and an increased chance of acceptance through its vast network. The platform's comprehensive tools and strategies make it a worthwhile investment for those seeking optimized results.